Verizon
Introducing Verizon's Retail Rockstars

Services:
A front-row seat into the world of Verizon Retail.
Our "Verizon Retail Rockstars" campaign rocked a reach of 37M+, 172K clicks, and 12.3M engagements, helping Verizon reach an additional 40M+ retail jobseekers and generate 9,300+ quality applicants—a 44%+ increase from the year before. So, how did we do it?
From the get-go, our mission was clear: Show candidates what makes a Verizon Retail career stand out (like the unparalleled growth opportunities and perks) all the while staying ahead of attraction and retention challenges that come with the retail territory.
Amplifying the recognition and opportunity that make a Verizon Retail career desirable meant redefining retail and showing it in a fresh, new light.
Thus, Verizon Retail Rockstars was born.
To communicate the "new" retail to candidates, we had to trade the expected for the energetic. Our plan? Create lively long- and short-form video content that shows what's in store in a Verizon Retail role.
So, the search began for Verizon Retail employees to be the stars of the show—that's right, actual employees. To keep our footage as authentic as possible, we opted for employees over actors, knowing real employees drive engagement and are relatable to candidates. With the right scouting and specs for internal talent, we found awesome stories to elevate.
Behind the scenes, we wrote a beat-poetry style script to be delivered by a Verizon Retail employee and performance artist, virtually scouted locations, and completed Verizon stakeholder presentations. Armed with two cameras, one drone, an Airbnb, and a dozen local Verizon Retail employees, we were ready to rock.
Our "Retail Rockstars" rocked even harder than we'd expected.
Two days of shooting later, we had footage, interviews, and stills that would become a teaser video, a full video, social clips, TikToks, and more. The finished product not only caught the attention of quality applicants but was also awarded the Bronze Telly in Branded Content for Recruitment. Our efforts have also helped earn Verizon's place as a finalist in the 2023 Gartner Marketing Communication Awards for Excellence in Marketing Data, Insights and Analytics.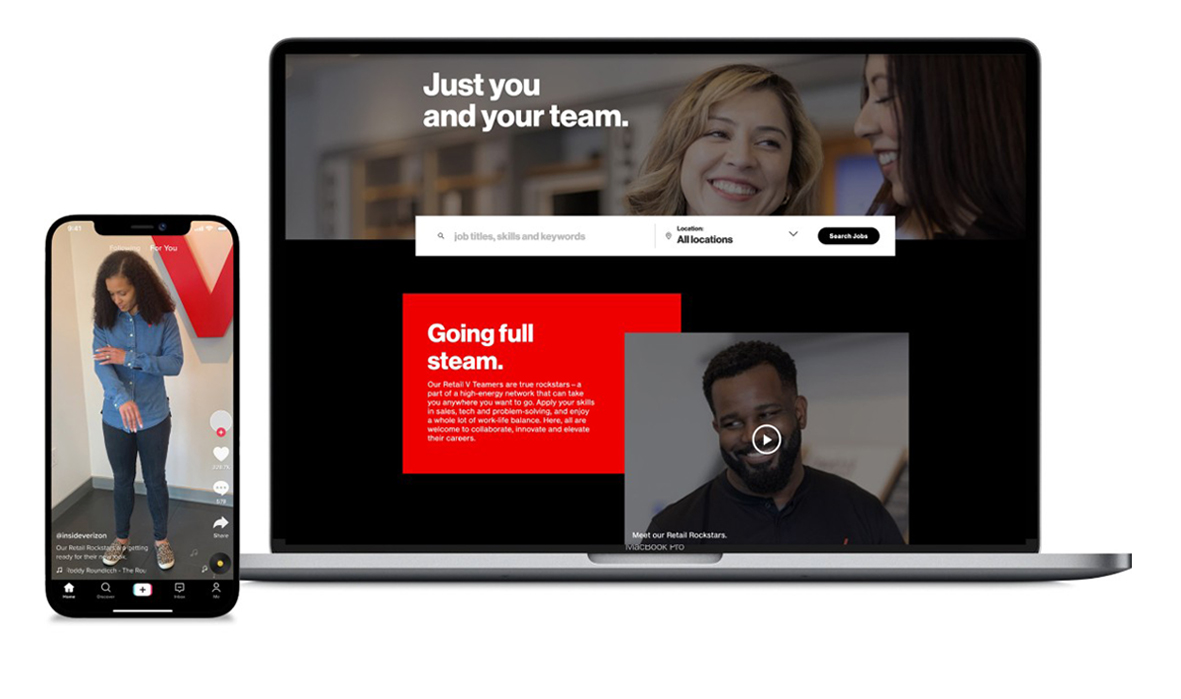 "BNO delivered on a new, exciting creative approach to promoting Verizon, our Retail team, and their authentic stories."
Jenna Friedel – Senior Manager of Recruitment Media