Innovate
BNO's Next Gen CX Workshop and 2023 Pharma CX Summit Wrap-Up

Tags
Customer Experience (CX) has been a foundational and evolving expertise at BNO and critical to our success for over 40 years. So, it was only fitting that BNO President and CEO—and Certified Customer Experience Professional (CCXP)—Trista Walker, co-hosted Next Gen CX: Leveraging Brand Promise to Create Competitive Advantage. This half-day interactive workshop kicked off the two-day 2023 Pharma CX Marketing Summit in Philadelphia and was designed to get a roomful of CX leaders together to collaborate and ideate, have fun while doing it, and walk away with some real learnings to take back to their organizations.
Simplifying an Involved Process
BNO's CX process with clients can involve focus groups, surveys, and in-depth interviews to inform emotional and scientific journey maps in the creation of customer personas and value propositions. The challenge to the BNO team was to get to the heart of the Signature Experience in a three-hour workshop, while still capturing the essence and nuances that can create uniquely delightful experiences that grow sales, attract influencers, foster loyalty, and inspire brand advocates. But in three hours? We're happy to report that our diverse BNO team of design-centric deep thinkers and doers were up to the challenge—as were the 30+ workshop attendees.
An intro grounded folks on some traditional CX basics and how they can come together with the brand promise to harness a competitive advantage which can create clear, simple guidelines to influence internal and external behaviors. Whether a three-hour workshop or a month-long deep dive, the building blocks are similar: understand your customer; zoom in on a job to be done; determine a moment in the customer journey that matters; then craft your signature experience guidelines.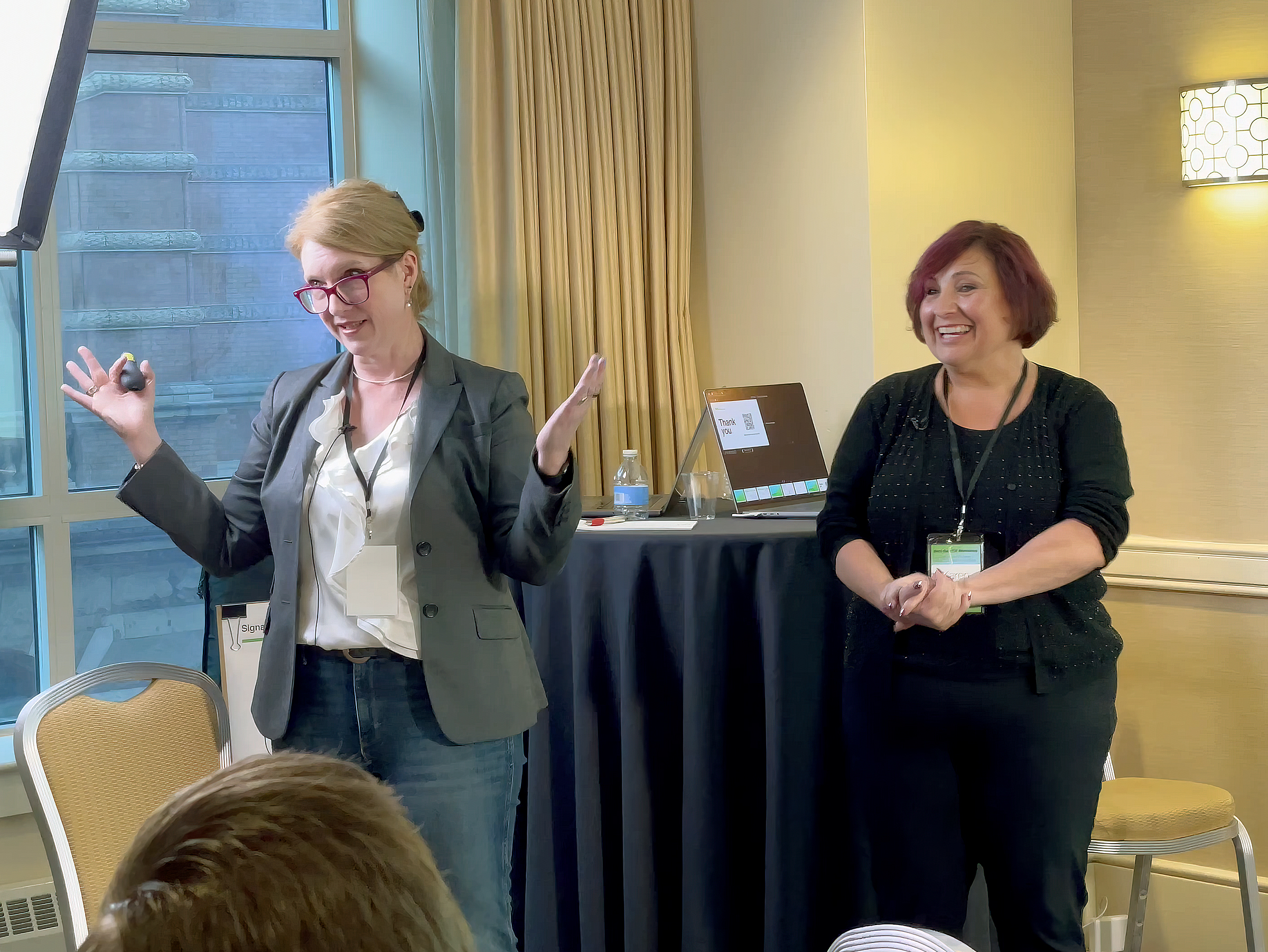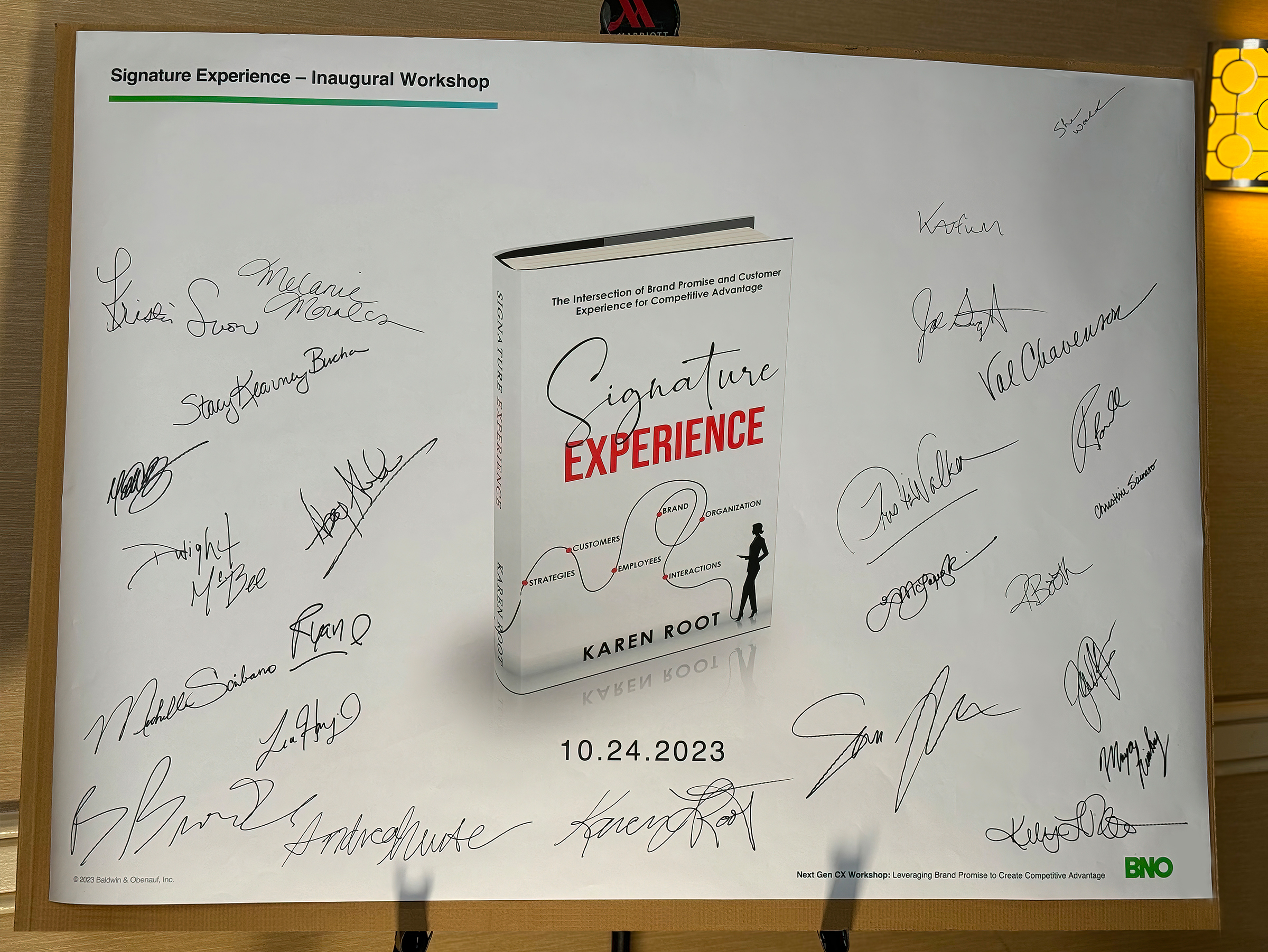 Trista Walker and Karen Root set the stage for the workshop.
Creating a Persona and Micro-Journey
Working with a fictional EV car brand, and given a brand name, positioning, and tagline for background, each workshop team was then challenged to create a persona, an amalgamation of typical traits, quirks, and attributes that brought their target audience to life. In place of those real-life interviews and focus groups, teams were presented with a box of artifacts and tchotchkes, including gym membership and grocery store loyalty cards, that helped paint a virtual picture of their persona. Teams named their persona and identified their wants and needs, motivations, and challenges and frustrations—getting inside the head of one's customer.
Creating a micro-journey meant choosing just one step in the customer process where teams would be defining that signature experience, from identifying need ("It's time to get a new car") to follow-up ("I need to service my EV"). Intimate knowledge of their persona at this point let teams describe what their persona was doing, thinking, and feeling, before, during, and after each of these "moments that matter."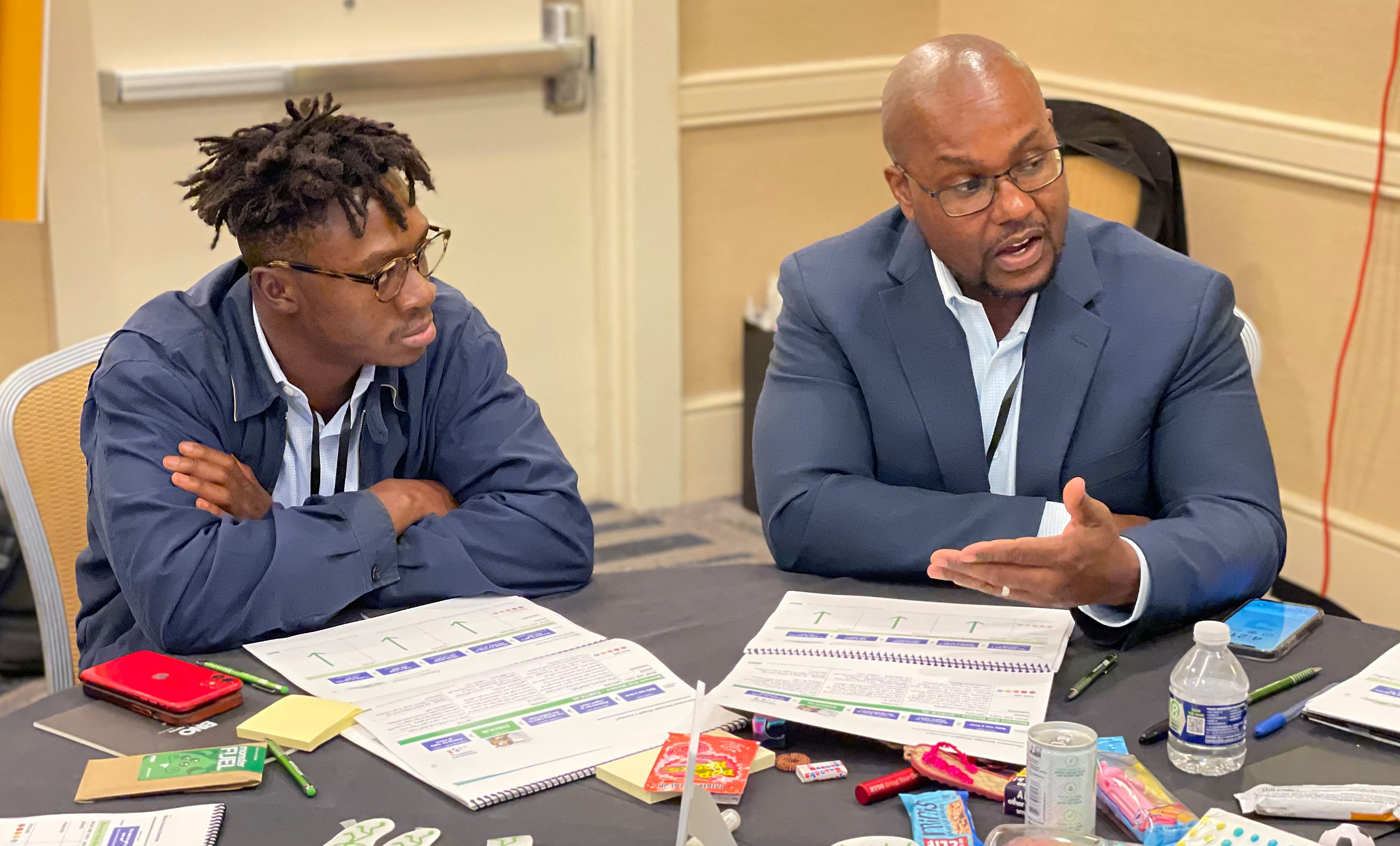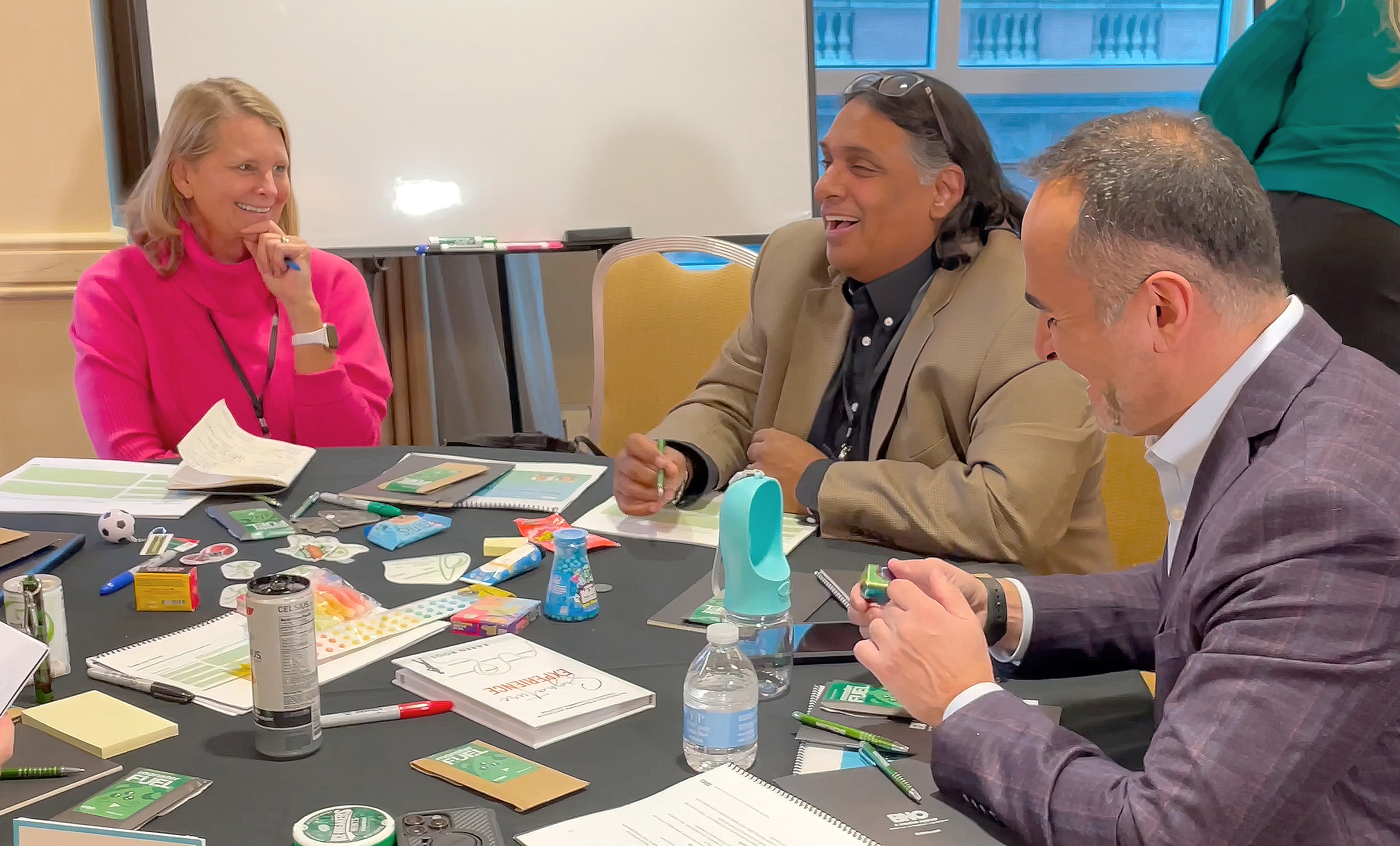 Workshop attendees plot their persona's micro-journey.
Bringing the Signature Experience to Life
Finally, three questions answered in each team's persona's voice would inform the signature experience guidelines:
What does bad look like? (What do we never want our customers to think, feel, and do?)
What's the cure? (What can the brand do to make sure "bad" doesn't happen?)
And—with a nod to Spinal Tap: What is the "Knob 11 Advantage"? (Keeping in mind our brand promise, how can we take one of our cures to an extreme?)
After enthusiastically presenting their findings to the room, each team—despite most being versed in CX basics—walked away with a new understanding of moving beyond core CX concepts that are, in the words of one participant, "practical and applicable to all clients." And for those new to CX, "It was very accessible, disarming, and engaging."
"This session was so much fun! This needs to be every experience leader's SOP. Congratulations on creating an awesome learning experience!"
– Dwight W. McBee, Executive Vice President, Chief Experience Officer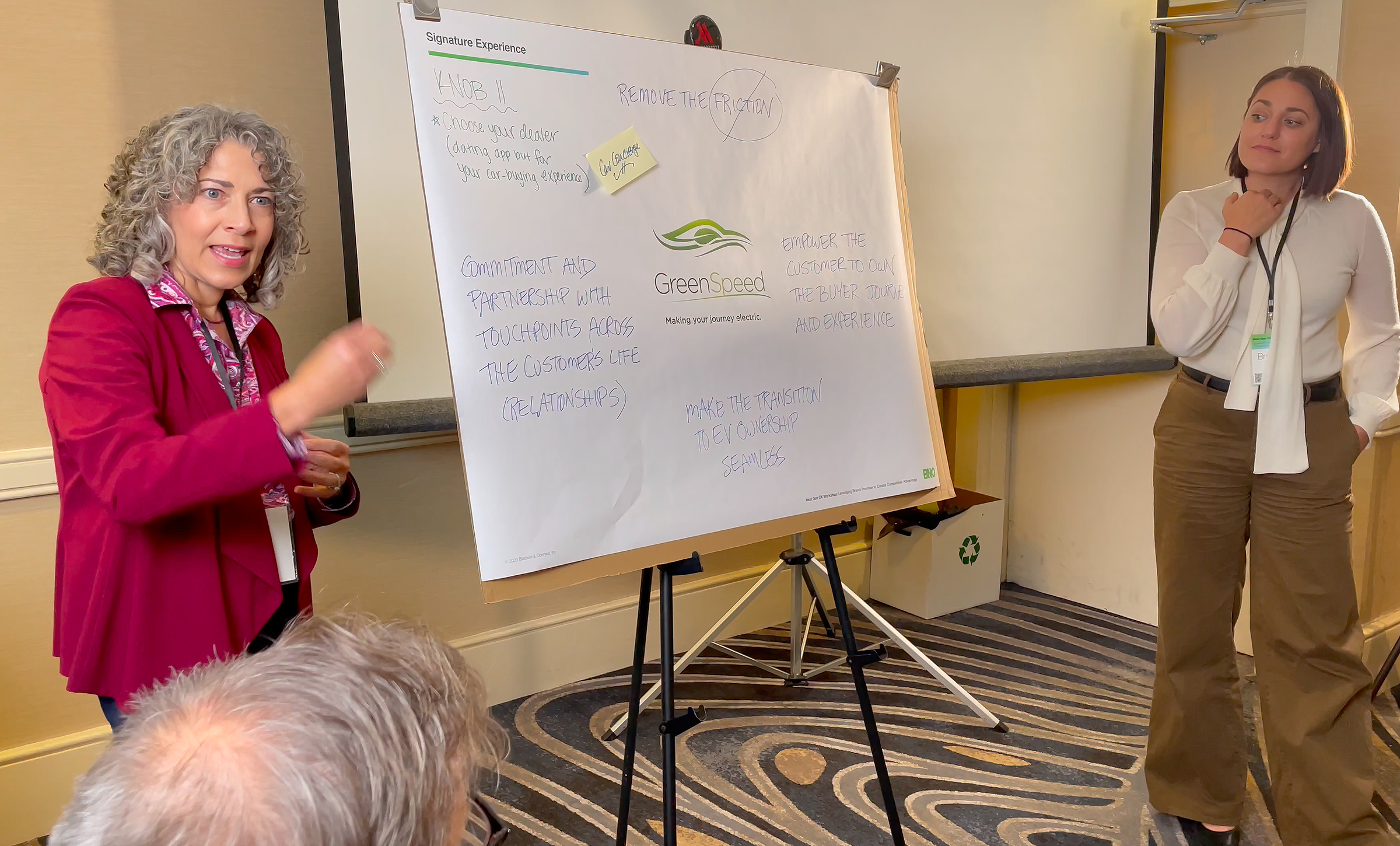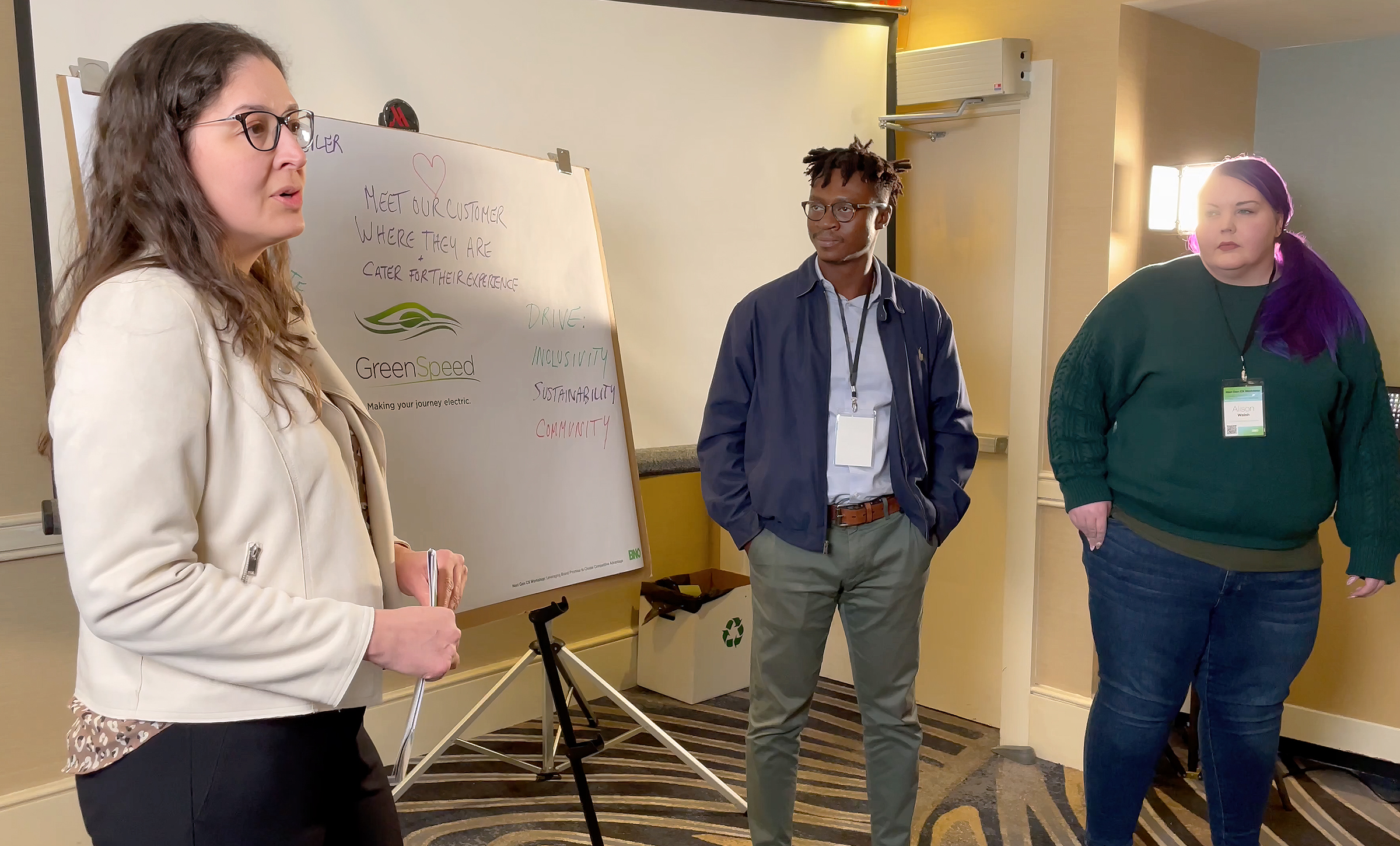 Workshop teams present their findings and bring the signature experience to life.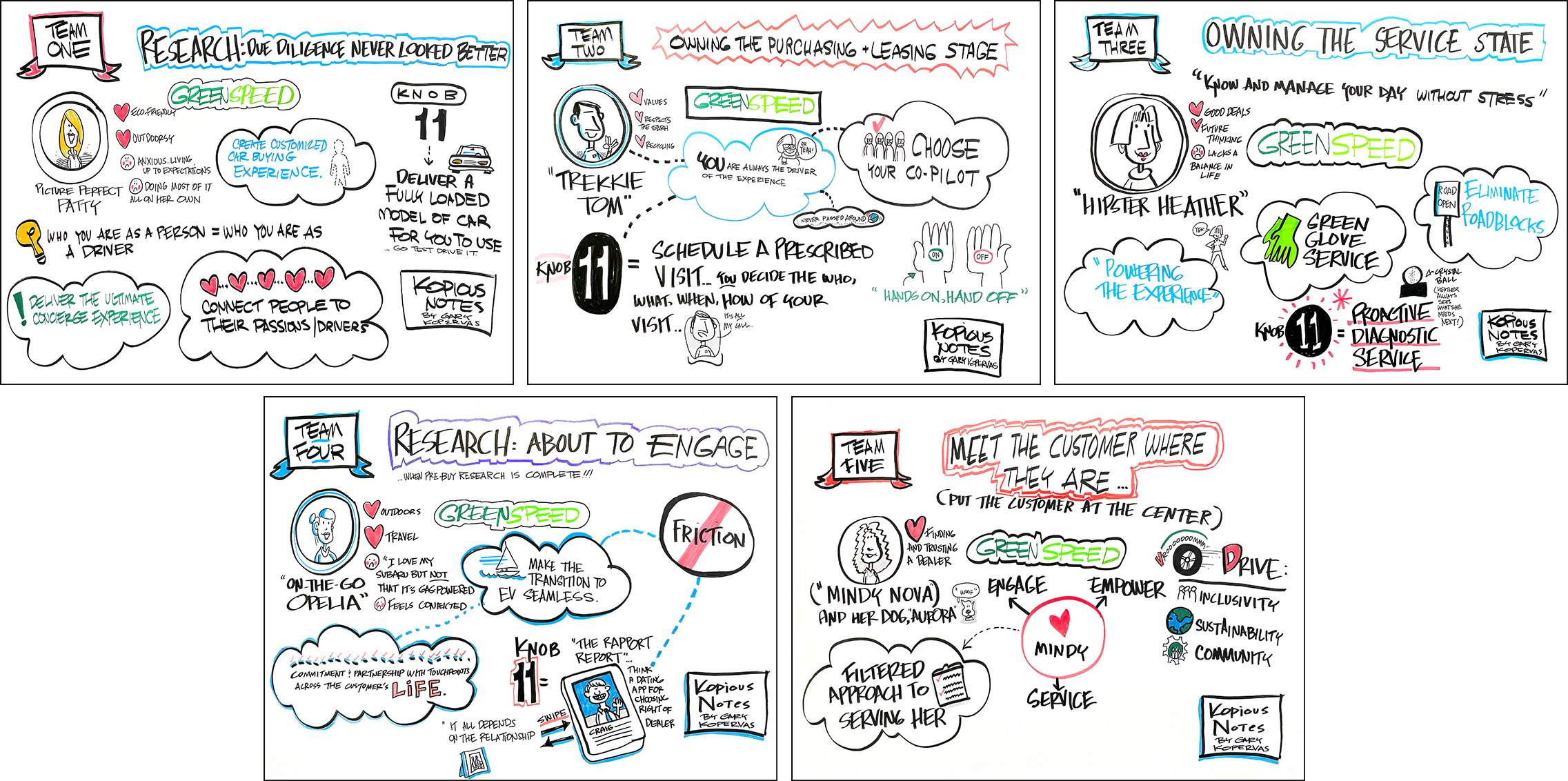 Each team developed their own Signature Experience Guidelines, a set of clear and actionable statements tailored to the brand and the customer experience that they envisioned for their persona.
BNO extends our sincere thanks to Trista's excellent co-facilitator, Karen Root, MBA, CCXP, and all who attended the workshop. It was tons of fun, the energy was off-the-charts, and we had a who's who of industry and public health leaders in the house representing J&J, Amgen, Boehringer Ingelheim, BMS, Geistlich, Novartis, Jefferson Health, and more. We loved having you with us. Big thanks as well to Simon Curtis and the UberEvents.io team for being amazing hosts.
2023 CX Marketing Summit Wrap-up
From pharma companies large, mid-size, and small, to pharma marketers, the 2023 CX Marketing Summit was the place to be to meet, mingle, and discuss the outsized and evolving role CX is playing in healthcare. High in importance—as one might have guessed—was AI, but especially in service of CX. This caught the ear of the BNO team, especially since we've been utilizing generative AI lately when analyzing data in the creation of very position-specific personas within large healthcare networks. This has streamlined our processes incredibly, lopping weeks off timelines and bringing more value to the table. In the words of our CEO, Trista Walker, "The potential of AI is amazing when paired with a smart human operator with the right mindset."
It was refreshing to hear several of the panel's honest assessments of the fragmentation of marketing efforts, often due to organizations losing sight of—yes, you guessed it—a customer-centric view when it comes to the entirety of marketing efforts.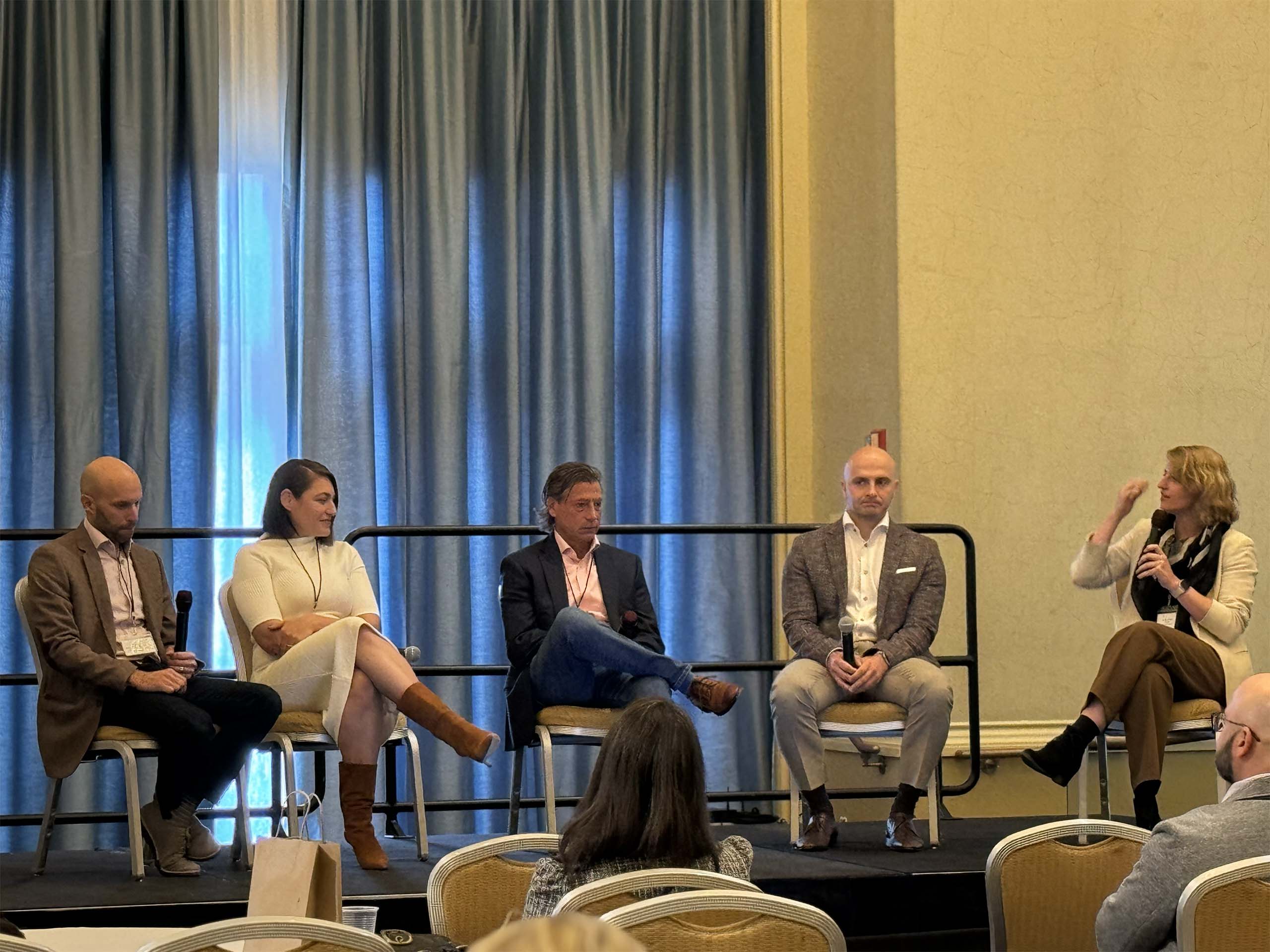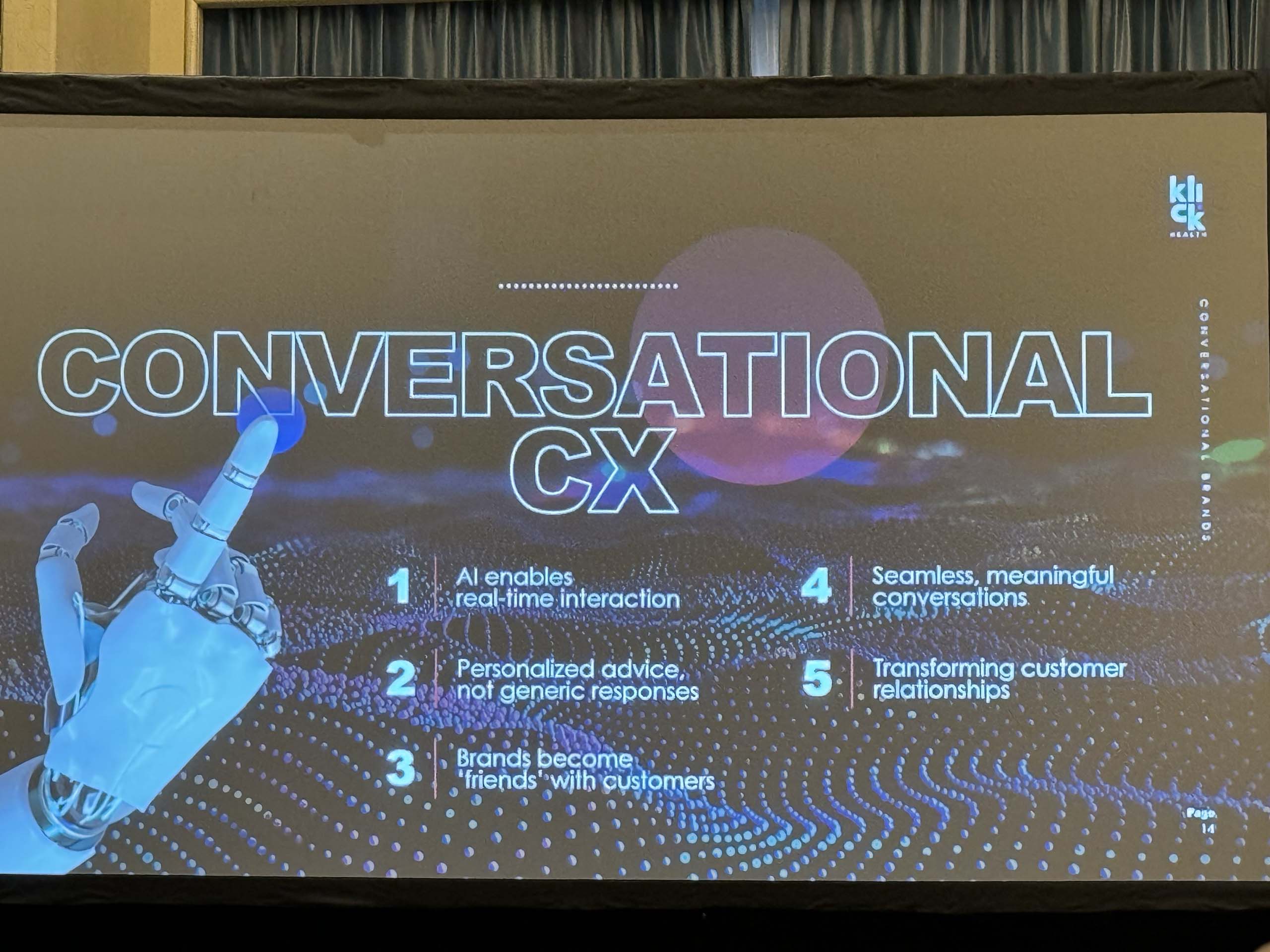 Panel on Generative AI and how tech, creativity, and data will define Pharma CX marketing.
Breaking Down Silos in Omnichannel
Silos have been sprouting up along with the proliferation of more social channels, according to Genentech's Head of Digital Marketing, Ozgun Demir. A true customer-centric approach means seamlessness between departments and specialties if you strive for a true omnichannel strategy. "You can't have people saying, 'I'm search,' or 'I'm social'", he said. "We're getting lost in too much data that's siloed, and everyone needs to see the bigger picture."
Susan Kirkendall, CEO of BVA Nudge Consulting brought Behavioral Science into the mix, speaking about "nudging" for better pharma CX. It's really getting to the source of how we as marketers can help influence customers by focusing on actual behaviors rather than attitudes, awareness, or emotions. Listening to patient appointment follow-up questions from a call center helped prepare HCPs for the questions patients wanted answered, not the questions a device company thought needed answered.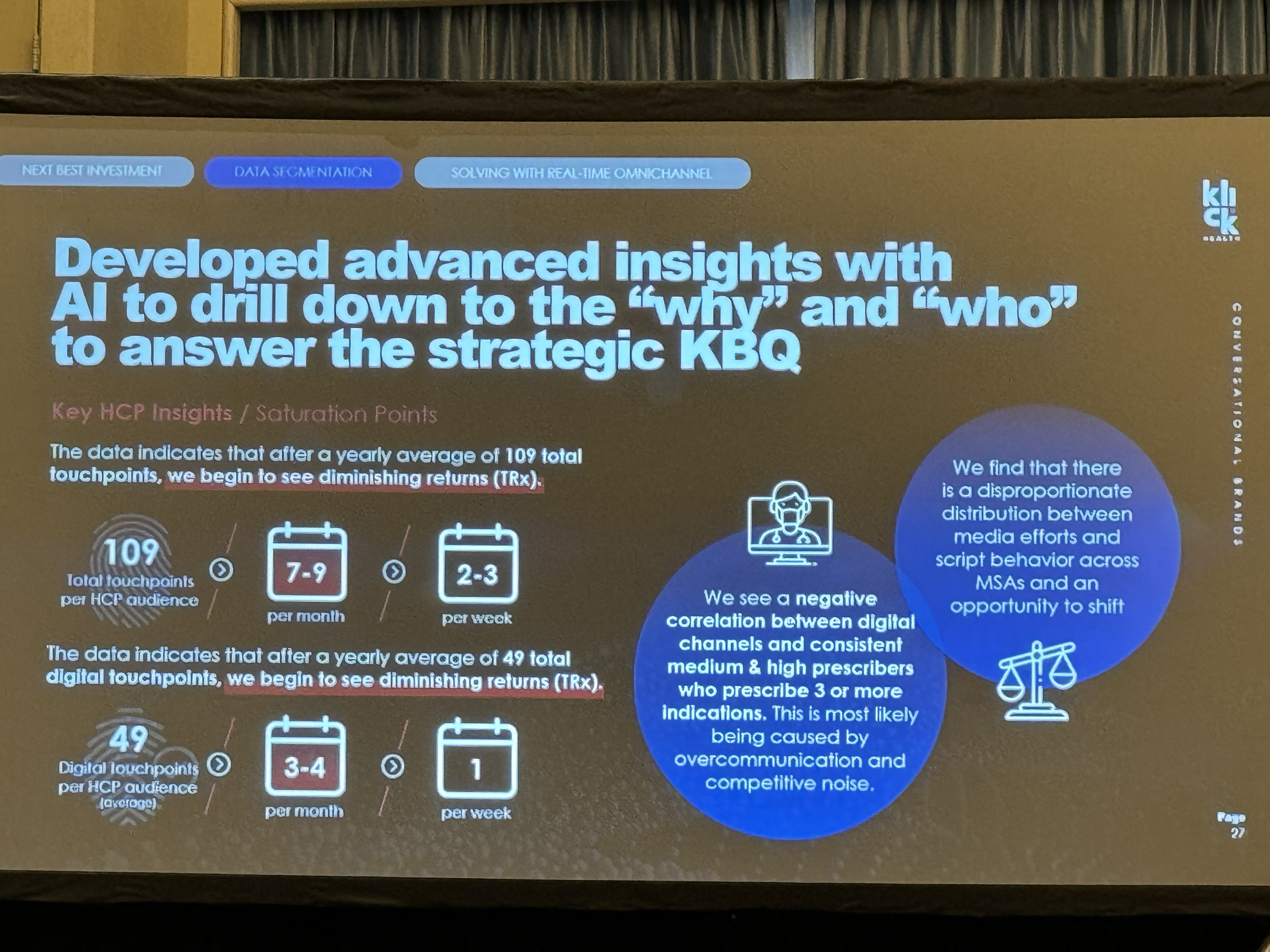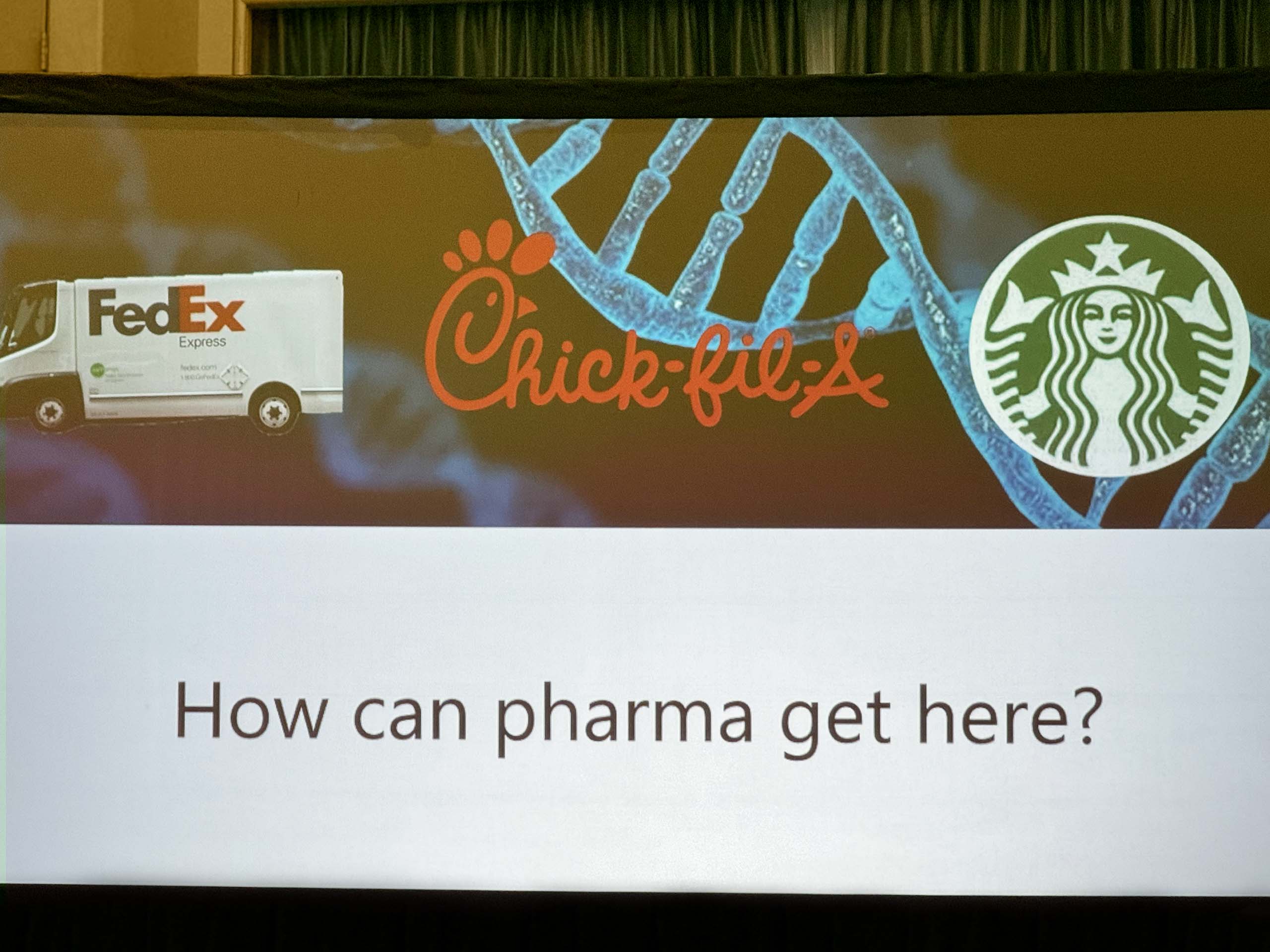 AI and making pharma more consumer-centric were popular topics.
Bringing CX to the Social Realm
ROI and social media are always a hot topic, especially in healthcare and pharma. This can get even dicier if we're working in marketing silos and measuring channels separately. Typical KPIs can be quite irrelevant when we approach things from a CX perspective, said Mark Bard, co-founder of Digital Health Coalition, on a panel, "Measuring the Value of a Customer's Social Media Experience". The relevance of social media is not being debated, especially when hearing stats like 80% of HCPs are using social during the workday, to educate both themselves and their patients. But simplistic metrics like reach and impressions can be irrelevant. Jay de la Cruz of Underscore Marketing emphasized the need to measure conversions and share of voice in light of social being just one part of the entire media package.
Other topics that resonated with the BNO team included the rise of social influencers in healthcare. Beth Crouse, CEO of 2nd Spark spoke on the emergence of patient influencers and digital opinion leaders allowing healthcare brands to harness the power of authentic voices to connect and engage with like-minded audiences. To echo Karen Root's melding of brand promise and customer experience, having an influencer who has experienced the same obstacles and solutions to a disease state as your target after being educated about your brand promise can be invaluable, whether driving disease state awareness, clinical trial recruiting, or sharing data and insights—that sounds like the beginning of a true signature experience to us.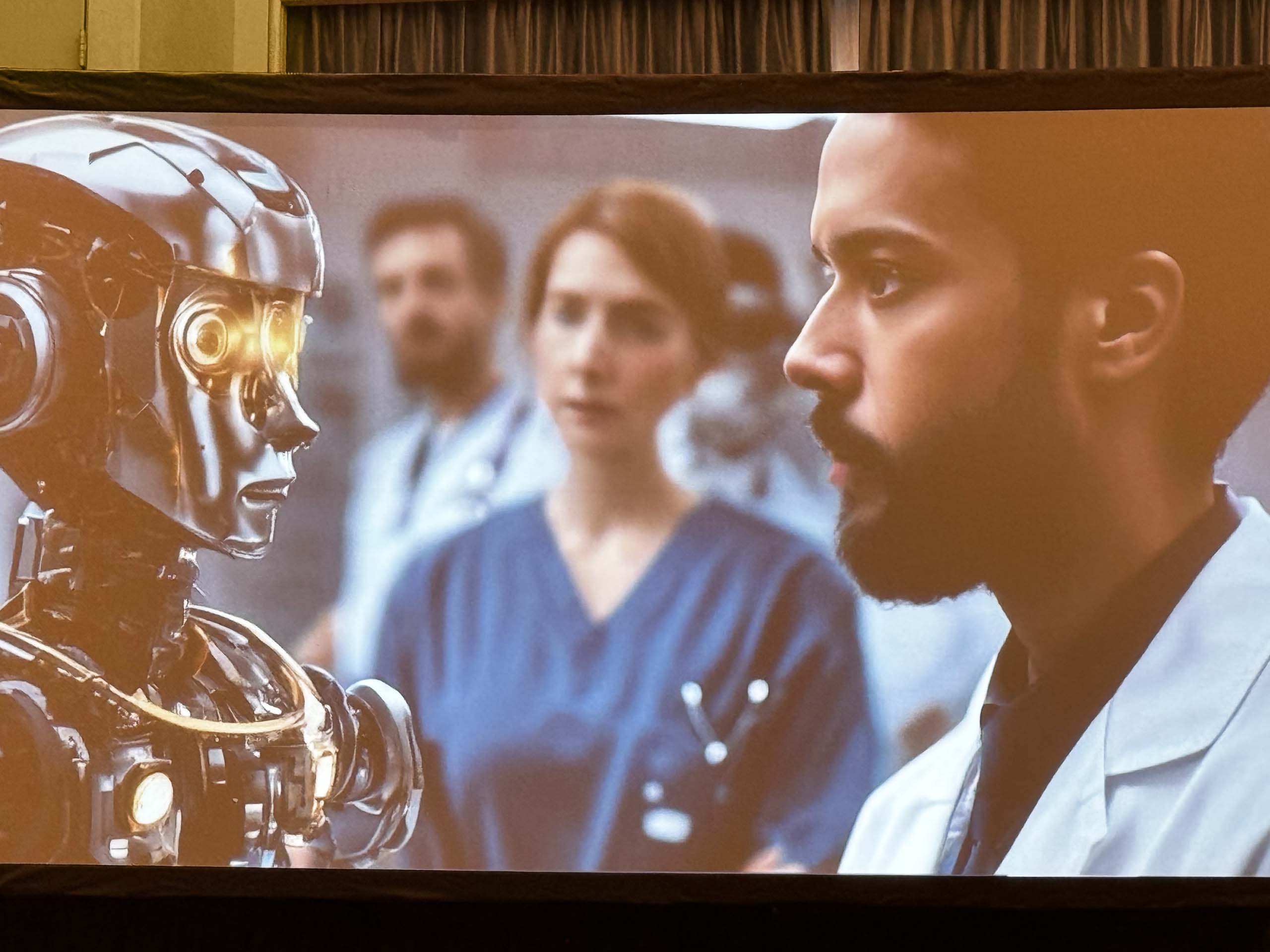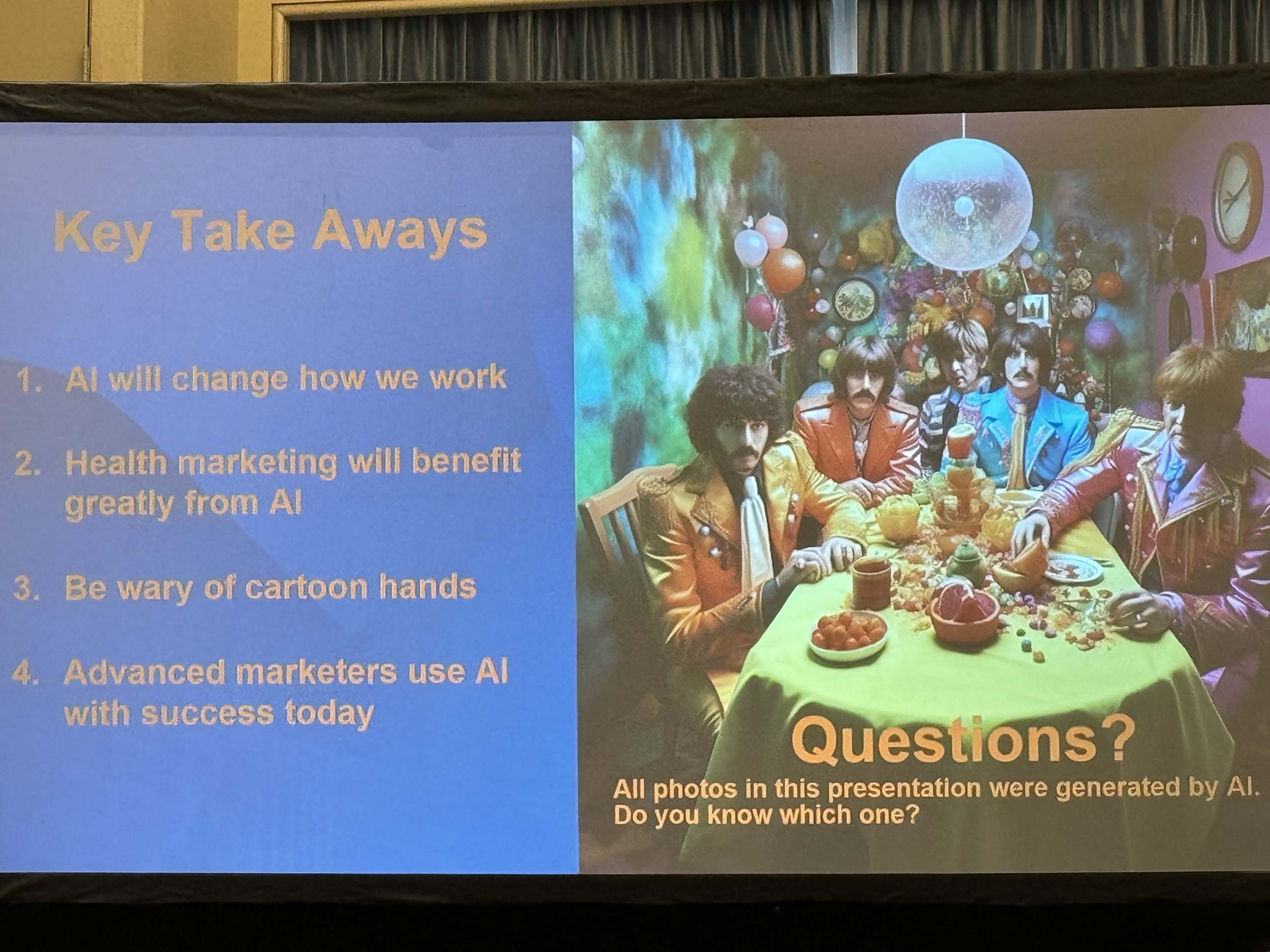 Pharma marketers are embracing AI in a number of different ways.
Let's Continue the Dialogue
If you've gotten anything out of this wrap-up, put on your CX cap and let us know. And if Trista and Karen's CX Workshop piqued your interest and you're wondering what your brand's signature experience might look like, then by all means reach out to us via our contact form here.
2023's Pharma CX Summit was two and a half days of insights, dialogue, interactivity, and ideation shining multiple lights and perspectives on the ever-evolving and critical role CX plays in healthcare marketing. BNO continues to evolve as well, building on our 40+ year foundation of customer-centric philosophy, and guiding some of healthcare's most innovative brands in a challenging, demanding, and rewarding vertical. Reach out to us with your challenges, and we look forward to seeing you at next year's Pharma CX Summit.